Michael Shannon D.D.S., M.S.
13354 Coursey Blvd
Baton Rouge, LA 70816
225-752-1252
Welcome to the practice of
Michael Shannon D.D.S., M.S.
Dr. Shannon is a prosthodontist. Prosthodontics is one of only nine dental specialties recognized by the American Dental Association (ADA). In fact, out of approximately 150,000 dentists nationwide, only 4000, just 2%, are Prosthodontists. It is the only true dental specialty dedicated to TMJ, dentures/partials, implant dentistry, esthetics and crown and bridges. A Prosthodontist completes three years of additional training in an ADA accredited post-doctoral program after earning a dental degree.
In addition to an extensive clinical education, this training features an in-depth study of TMJ, dental materials and related sciences, hands-on experience with all laboratory procedures, and collaboration with other dental specialists and medical colleagues. In these scenarios, the Prosthodontist becomes the architect for multi-disciplinary treatment planning and care. This scope of experience and educational focus distinguishes the Prosthodontist as a specialist in achieving optimal TMJ/oral health. Prosthodontist also act as consultants in the dental industry and clinical researchers at educational institutions and are at the forefront of dental technology.
Dr. Shannon specializes in:
TMJ
Dentures/Partials Dentures
Implant Dentistry
Esthetics
Crown and Bridges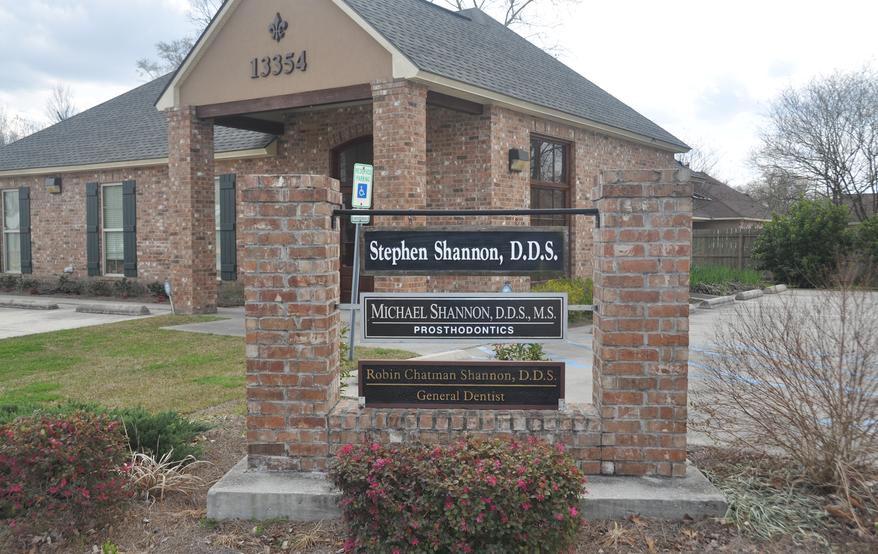 Our Philosophy
Integrity
As a Prosthodontic specialty practice, we strive to create a peaceful and relaxing environment for our patients. Our practice is very unique in that every patient is treated as an individual with honesty and integrity. We take time to sit down and talk with our patients to get to know them and to identify what their specific dental concerns are. Patients are never rushed in and out of our practice.
Experience
After getting to know our patients, their present condition is assessed and all possible treatment options are discussed and fully explained by Dr. Shannon himself, along with the financial obligations that accompany each option. Unlike most dental/medical practices today, time is spent with each patient to ensure they understand the reasons for each specific treatment option and are encouraged to ask as many questions as needed to fully understand their treatment options.
Freedom
Once our patients are educated about their possible options, they are allowed to choose the option that is best for them both from a treatment and financial perspective. There are never any high-pressure sales tactics employed to "Sell dentistry" and choosing to do nothing is always an option. All financial obligations are explained up front. There are no tricks or hidden fees later revealed to the patient during ongoing treatment.
Patience
We pride ourselves on spending time with our patients to ensure the best possible treatment outcome. Plenty of time is scheduled for each dental procedure to ensure quality treatment. We do not rush through any procedure which diminishes the quality of the procedure and can lead to future problems. Before any procedure is performed, it is ensured that the patient is comfortable and not experiencing any pain. If a level of comfort cannot be reached, the procedure for that day is scheduled for another time.
Our patients are our absolute number one priority.